Cultivated Crabapple
---
In 1969, hippies had taken over most college campuses. Many students were spending their days protesting, smoking various leaves, and dropping out of society. But not William N. Valavanis. I don't know how much focus he had on his studies, but he did have his eyesight locked on some potential bonsai material – within spitting distance from the State University of New York at Farmingdale, Long Island. Some people head for the mountains to collect trees. Others head to their nearest nursery in search of potential bonsai. An abandoned property just across the street from the college was Bill's first choice for interesting material.

Wild hybridized crabapple seedlings had grown from six to ten feet tall. Bill admired their nice bases and knew he could create beautiful bonsai. After getting permission to remove the trees, his first job was to make the material collectable. He trimmed all the trees to just two feet tall. Perhaps Bill should have majored in business instead of ornamental horticulture, because he paid his buddies a mere $5 per tree to dig them up. Though his wallet was a little lighter (and his friends a lot dirtier), Bill was rich with at least 25 trees.

During the 1970's, Bill spent time developing branches while parking the root structures in wooden boxes. In 1976, Bill's sensei and friend Yuji Yoshimura admired the nicest crabapple of all and recommended that the front branch be removed. For a while, Bill resisted making the cut, but eventually he agreed with Yoshimurasan and removed the branch.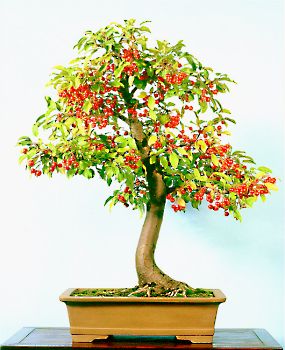 Bill Valavanis's crabapple in the 1980s.
Photo: Dean N. Valavanis
Larger version
Bill, still the businessman, was no fool. He had more crabapple than any bonsai artist needs, so he sold all but the two best trees (for a lovely profit) and concentrated his artistic efforts on the remaining stock. During the 1980's, he showed both trees in Rochester, New York. One unusual characteristic of these trees is that they have prolific blossoms – every other year. The good news for Bill: because one tree looked its best in even years while the other tree peaked in odd years, he had one spectacular flower display to show off every year.
As the trees developed and improved, different pots were called for. When the time eventually came for a very special container for the better of the two crabapples, a trip to Japan for a Tokoname-ware container from the Reiho kiln was in order. Finally, Bill was content with his creation.
Bill Valavanis repotting one of the crabapples.
Photo: Dean N. Valavanis
Larger version
When the John Y. Naka North American Pavilion was being established in 1990, Bill was appointed Chairman of the Selection Committee to oversee the bonsai chosen. The committee wanted to showcase the diversity of material and bonsai styles found in North America. Bill thought about the wild crabapple that he'd collected decades earlier; it was different from the dozens of other trees submitted for consideration. The committee was thrilled to have one of Bill's crabapple bonsai in the collection.
Many years earlier, when Bill had divested himself of most of his crabapples, he had saved his two best. Now, for the North American Pavilion, he contributed the finer of the two. So if you visit the Pavilion and you don't see a spectacular show of flower or fruit, head for Bill's nursery in Rochester.
---
Visit William N. Valavanis's website, International Bonsai
---
This is a revised and expanded version of an article that originally appeared in the NBF Bulletin.
© 2006 Cheryl Manning. All rights reserved.
[ Top of page | Go back | Go forward | "Profiles in Bonsai" contents | Site contents | Home | ]