Old Rose Loved Forests
---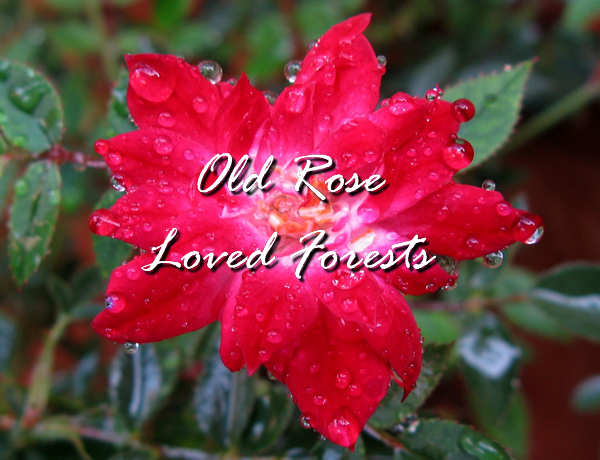 Gloria Stuart was two years old when the Titanic sank, eighty-seven when she starred as "Old Rose" in the movie Titanic, and fifty when she fell in love with the art of bonsai.
Here's the picture book I wrote to accompany a bonsai demonstration I presented in memory of Gloria.
Part One: Gloria's Hollywood Years
Gloria Stuart is known around the world as an actress. In the 1930s, she appeared in over 42 films, including The Invisible Man, Gold Diggers of 1935, and Rebecca of Sunnybrook Farm. In 1997, at the age of 87, she landed the role of a lifetime: the 100-year-old Rose in the movie Titanic.
Gloria and Claude Rains starred in The Invisible Man, 1933.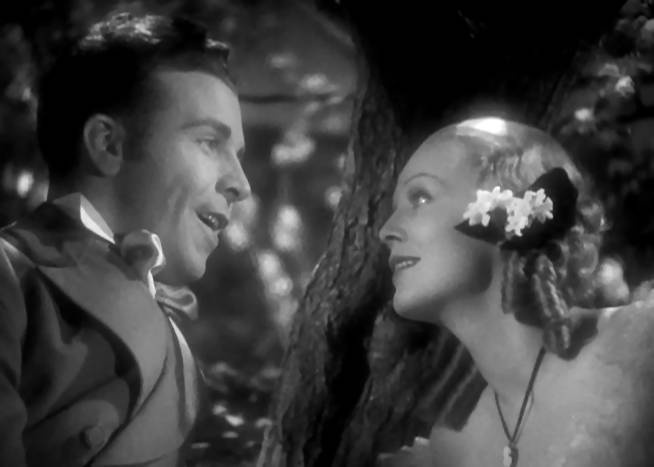 Dick Powell crooned to Gloria in Gold Diggers of 1935.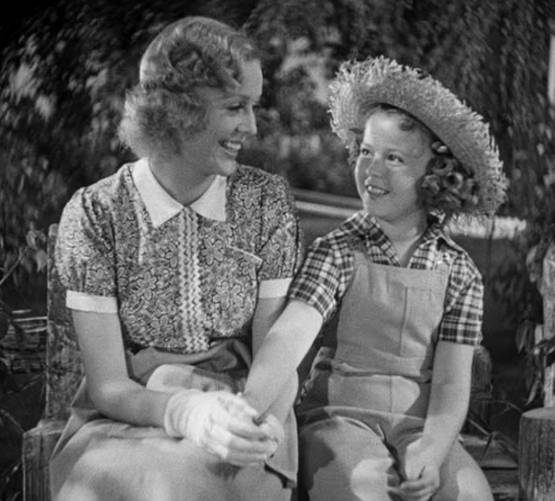 Gloria and Shirley Temple in Rebecca of Sunnybrook Farm, 1938.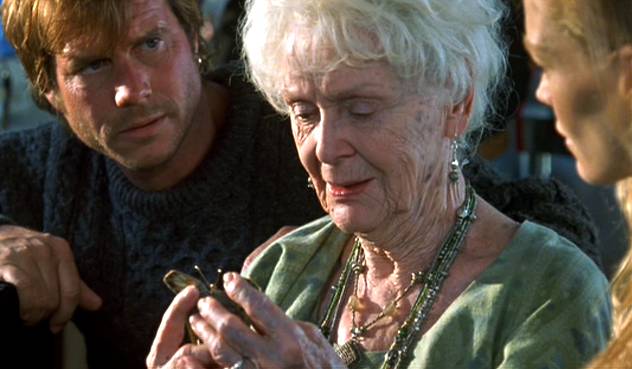 Gloria as "Old Rose" with Bill Paxton and Suzy Amis in Titanic, 1997.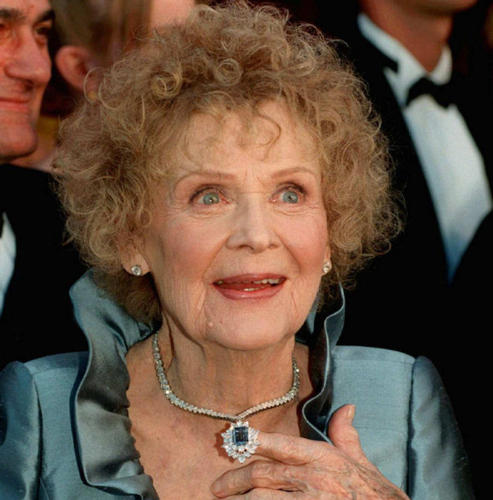 Gloria at the 1998 Academy Awards. She was the oldest person to be Oscar-nominated (for Supporting Actress as "Old Rose").
Credit: Chris Pizzello/Associated Press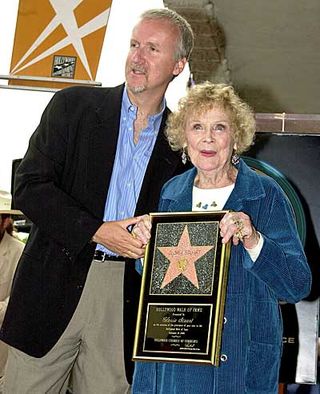 Gloria with James Cameron when she was presented with a star on the Hollywood Walk of Fame in 1999.
Credit: Getty Images
Part Two: Gloria's Bonsai Beginnings
In southern California, Gloria is also known as a talented bonsai artist who spent half a lifetime styling and nurturing her precious trees. Her first encounter with bonsai was at a Hollywood party hosted by J.J. Cohen, then Vice-President of Paramount Pictures.
Shortly thereafter, in 1960, she began a fifty-year commitment to the art. Frank Nagata, co-founder of California Bonsai Society and Gloria's first teacher, sponsored her to become a member of CBS in the mid 1960's.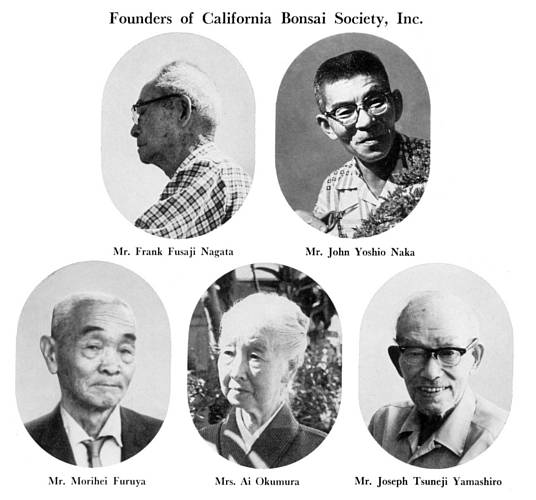 Founders photos were featured in the first Bonsai in California magazine, 1967.
One of her shohin trees was photographed for the first Bonsai In California magazine under her married name Gloria Sheekman.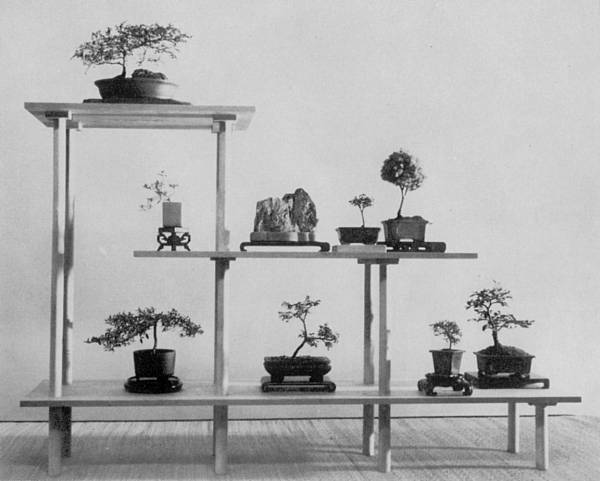 Gloria was one of five members who contributed shohin to this collection for the first Bonsai in California magazine.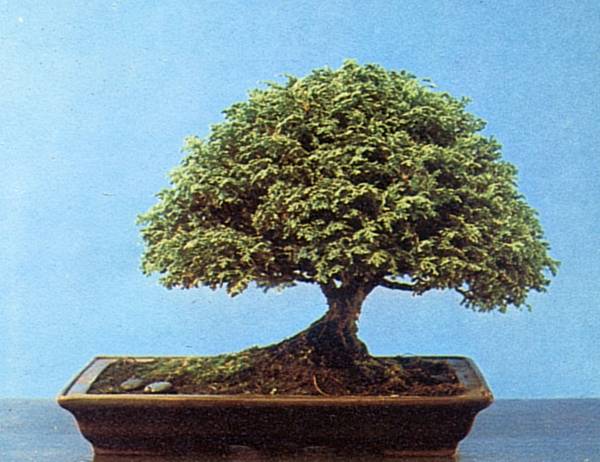 Gloria's Hinoki cypress (which she called a "Sawara cypress") in Bonsai in California, Volume 11, 1978.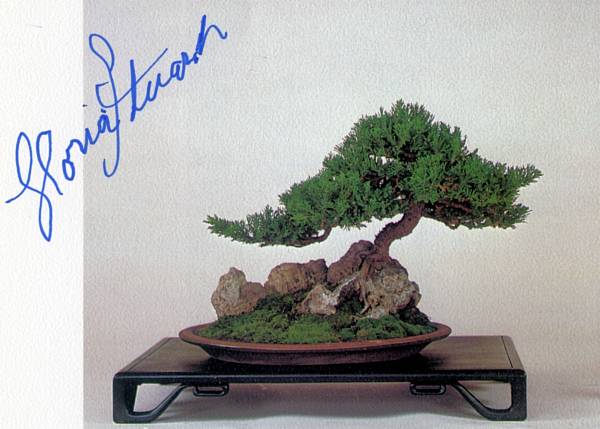 Gloria's Prostrata root-over-rock in Bonsai in California, Volume 18, 1985.
When Frank retired from teaching, Gloria studied with John Naka, another co-founder of the club. She worked on her trees and participated in exhibitions.
Gloria purchased bonsai material from nurseries, but also gathered elm seedlings below the large tree in her front yard to create two elm root-over-rock bonsai.
Gloria always loved forests, so she arranged the remaining seedlings in one group planting. Over the years, she also created forests with ginkgo and olive.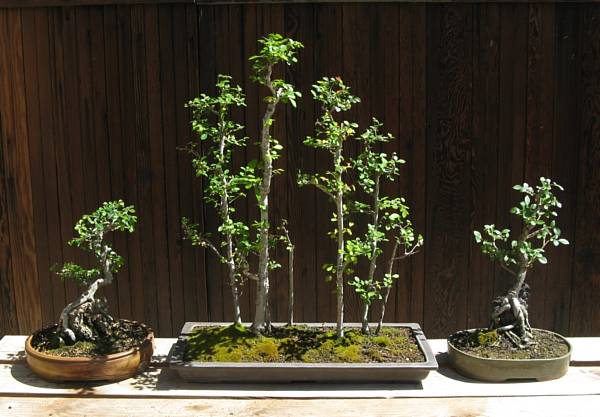 Three beautiful bonsai got their start in Gloria's front yard.
Part Three: Gloria's Favorite Forest
Gloria's favorite bonsai was the forest she wrote about in her autobiography I Just Kept Hoping.
While on a trip to France in 1982, Gloria and her grandson walked among the black oak trees in the royal forest surrounding the palace in Fontainebleau, near Paris, and gathered acorns.
Upon her return, Gloria planted the acorns in a bonsai pot. For the next 28 years, she enjoyed the seasonal changes in this deciduous oak forest.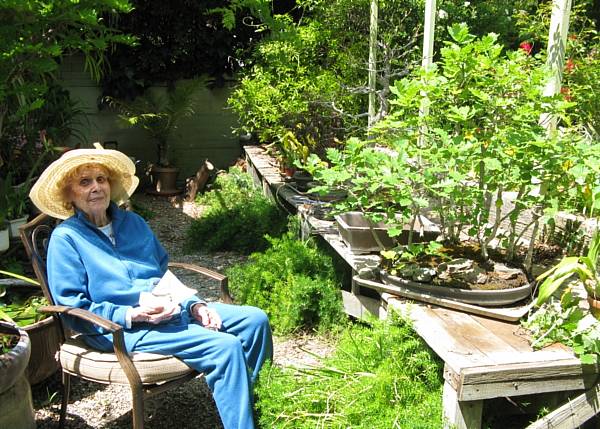 A lovely, lazy afternoon in "Old Rose's" garden with her French oak forest.
Frank Goya, one of John Naka's first students, was Gloria's last teacher. They shared a love of forests and saikei. As with her other mentors, Gloria became good friends with Frank.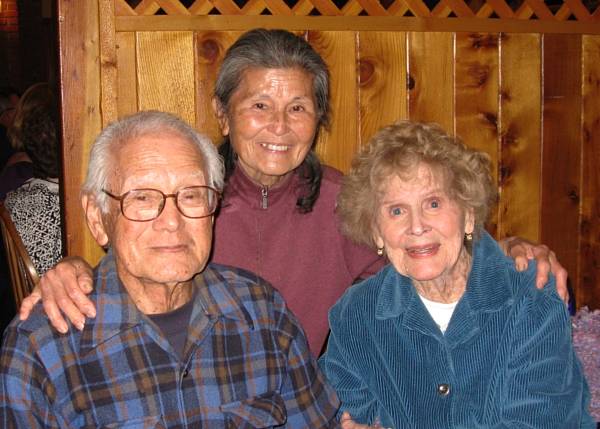 Gloria visited with Frank and Margaret Goya at the Nanpukai luncheon, January 31, 2010.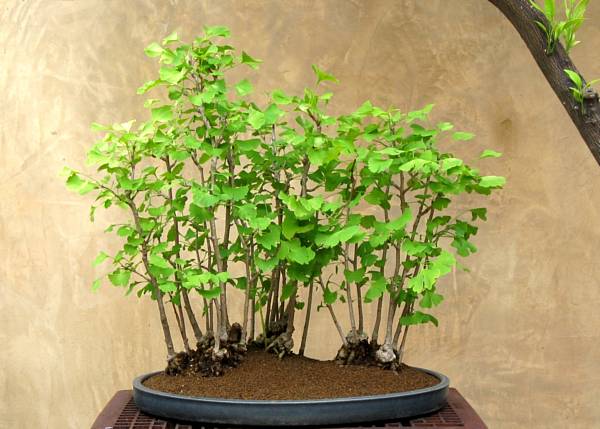 Gloria's Ginkgo forest, now part of the bonsai collection at the Huntington Botanical Gardens in San Marino, California.
On the Fourth of July, 2010, Gloria celebrated her hundredth birthday with 130 friends and family at a party and retrospective hosted by James Cameron and Suzy Amis Cameron in Beverly Hills. Guests enjoyed more than two dozen of Gloria's oil paintings, several of her handmade books, and two of her bonsai including her favorite – the French oak forest.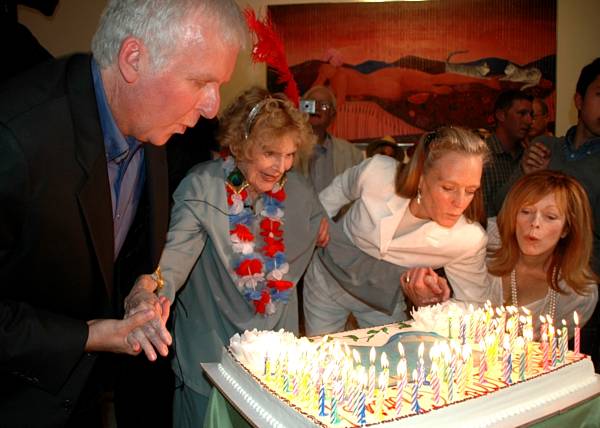 Gloria, James Cameron, Suzy Amis Cameron, and Frances Fisher huffed and puffed and blew out all the candles.
Credit: The Stuart family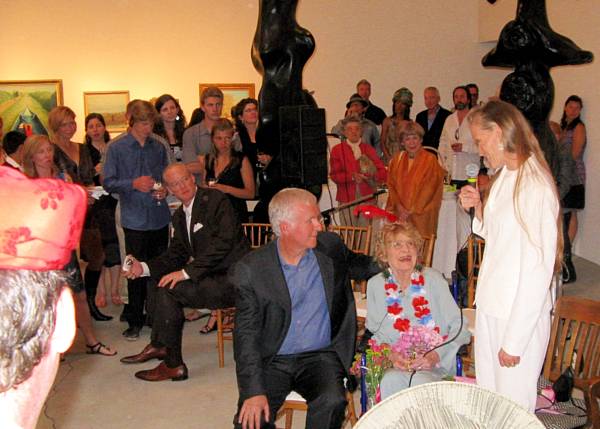 With Gloria's paintings on the walls, and friends and family standing by, Suzy Amis Cameron reminisced.
Gloria's elm and French oak forest, displayed near the entrance, greeted Gloria and the Camerons when they arrived.
Part Four: Celebrating Gloria
Five weeks later, the southern California bonsai community gave Gloria another birthday celebration at the Huntington Botanical Gardens in San Marino where four of her bonsai were on display.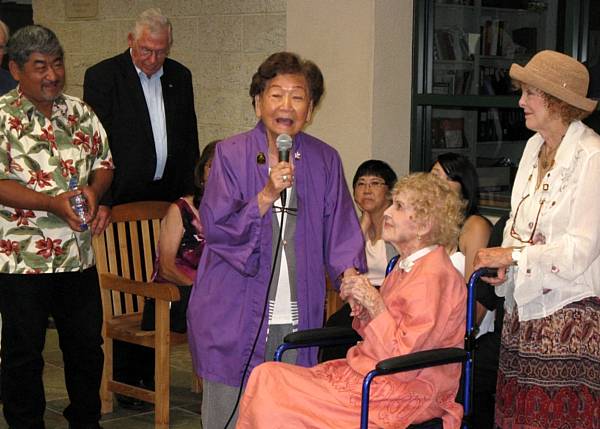 Kay Komai (Frank Nagata's daughter and one of Gloria's oldest friends) talked about their early days in bonsai.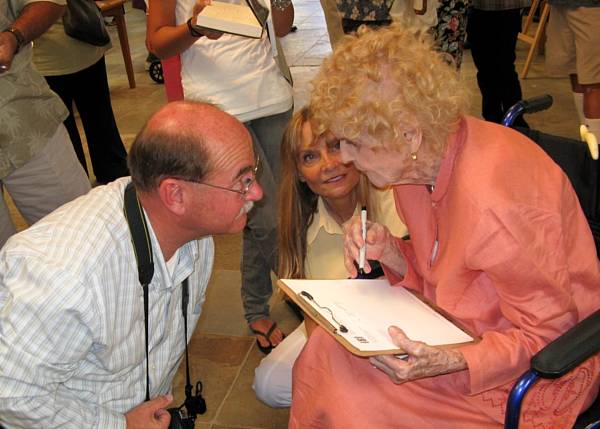 Jim Folsom, Director of the Botanical Gardens at The Huntington, chatted with Gloria as Nina Ragle looked on.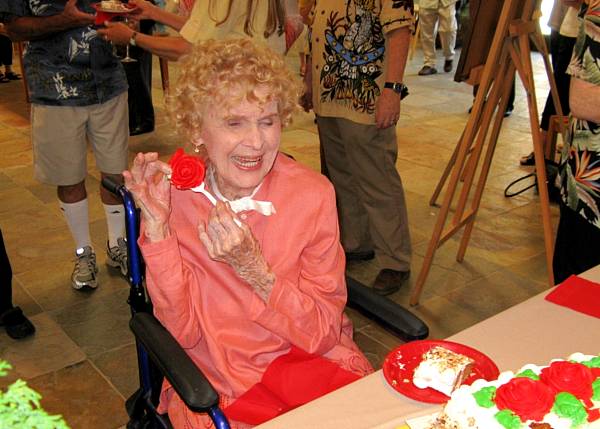 "Old Rose" with a buttercream rose from her birthday cake.
In August 22, 2010, Gloria attended the Nanpukai show where her beloved oak forest was on display. She visited with friends and fans for what would be her last public appearance.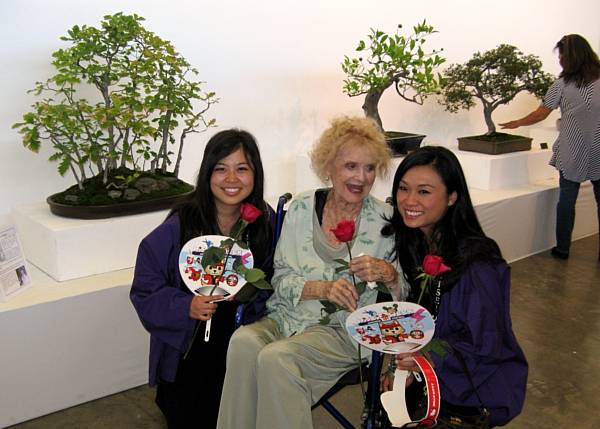 Two fans posed with Gloria and her French oak forest.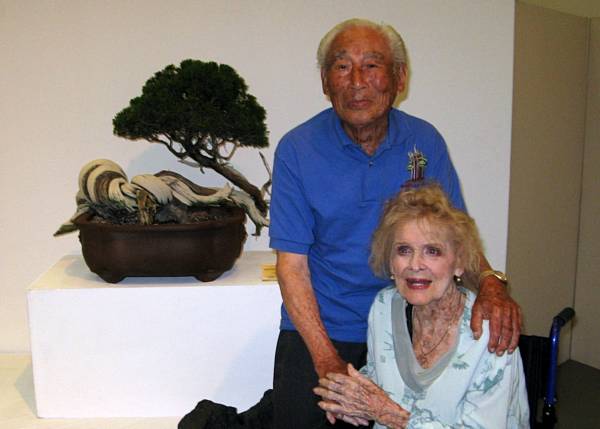 Gloria with Harry Hirao in front of his California juniper.
Gloria always said that her love of life and never-ending curiosity kept her young.
She was in her mid-nineties when she purchased several small Shimpaku junipers to create one last forest. She watered them and fed them, but she never assembled her final creation.
For California Bonsai Society's 55th Convention, I chose to honor my dear friend by creating a forest with Gloria's little trees.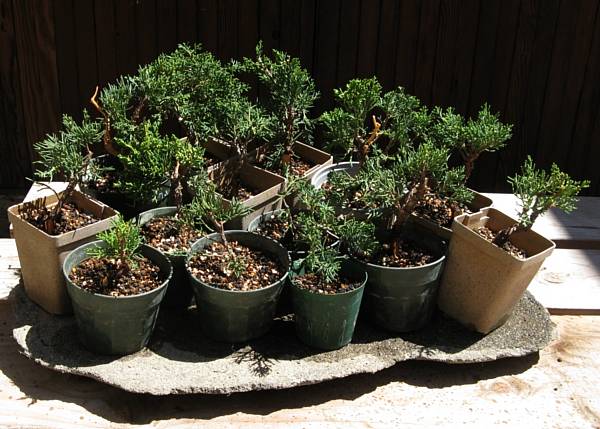 Gloria's Shimpaku junipers and Frank Goya's slab, before demo.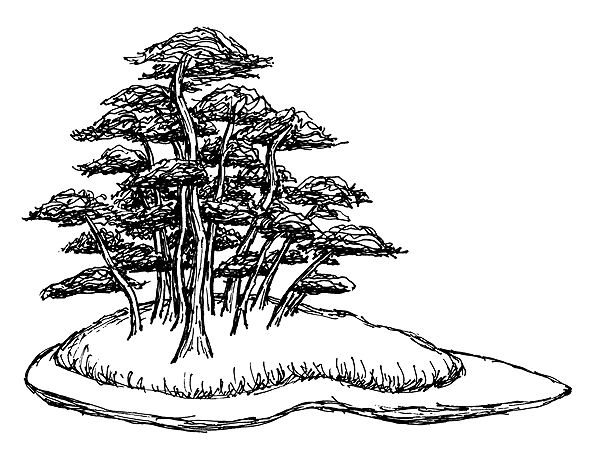 A design sketch for the future of this Shimpaku forest.
Few people live to be 100 years old; still fewer live such an extraordinary life.
On September 26th, 2010, Gloria Stuart – actress, book artist, painter, and bonsai artist – passed away.
The legacy she leaves behind is great and varied. Her talent is apparent on screen and canvas. Her wit and intellect jump off the pages of her books. Her artistry lives on in her bonsai, including three trees now part of the collection at the Huntington Gardens.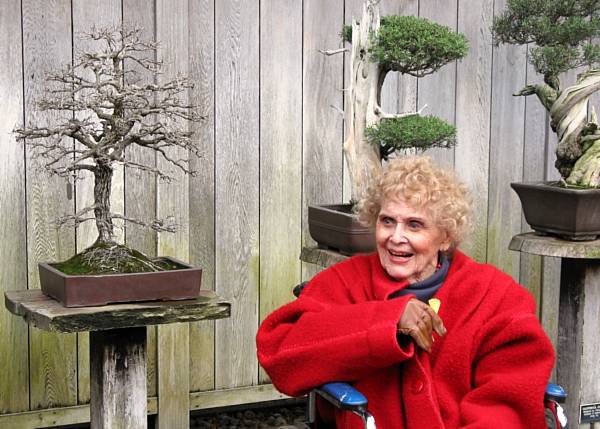 In December 2009, Gloria visited the elm bonsai she had donated to The Huntington ten years earlier.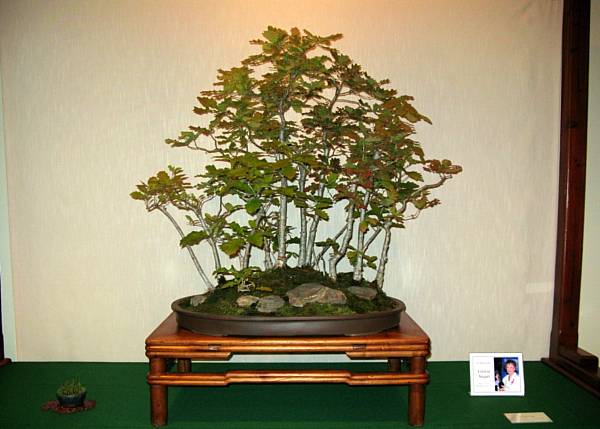 Memorial display for Gloria at the annual California Bonsai Society show, March 26-27, 2011.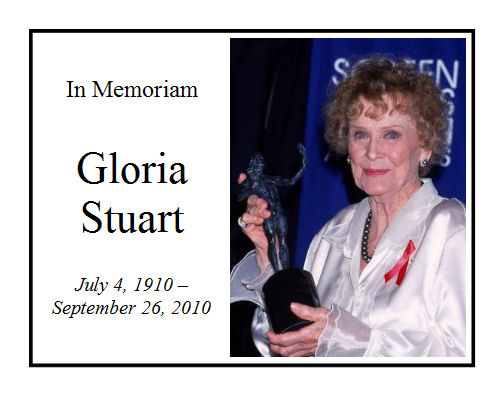 ---