Sketchbook Story: John Naka's Cascading Juniper
---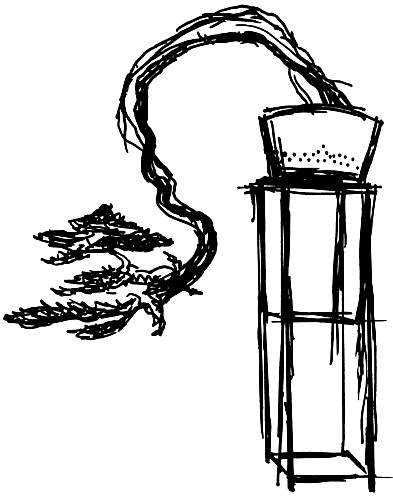 John's sketch of his own tree.
John Naka took pen to paper thousands of times to sketch his vision for a student's bonsai, but he rarely sketched his own trees. When editing John Naka's Sketchbook, I wanted to include one.
On page 13 is a sketch John made of his own show tree, a cascading California juniper, for the 1996 Nanpukai exhibition brochure. This bonsai is still alive and well in the back yard of the Naka home now occupied by John's eldest son Gene.
I was curious about the story of this large and impressive bonsai. I spoke with some of John's earliest students and oldest friends including Marybel Balendonck, Frank Goya, Harry Hirao, and Ben Oki. They agreed that this tree had been in John's collection for several decades, but could not recall specifics. They were happy to reminisce about the early days of collecting California natives.
John was always on the lookout for wonderful bonsai material, whether it was in a client's garden, a nursery, or in the abandoned Southern California neighborhood scheduled for demolition before construction of Interstate 5. However, John collected some of his oldest and most interesting bonsai in the Mojave Desert.
In the mid 1950's, John not only practiced the art of bonsai but also studied oil painting. It was in one of these classes that John first heard about California junipers. His art teacher, after seeing photos of John's bonsai, mentioned stunted, contorted junipers full of character in the hills surrounding the city of Palmdale.
That was all John needed to hear. The following Sunday, John and his bonsai buddy Micky Mizutari were in the desert digging for green gold. They were hooked and drove to the desert every week for many years.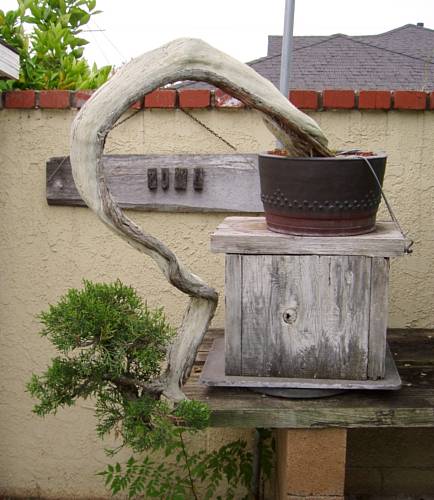 The tree in 2004, one month before John passed away.
The California juniper grows in a very harsh environment. Desert heat and lack of rain for many months cause the trees to go dormant in the summer. Drying, year-round winds, and frigid winters with occasional snow limit the growing season to a few weeks in the spring. Trunk girth can grow as little as 1" every 75 years. Natural die-back and termite damage add character to trees that are often several hundred years old.
California junipers adapted well to John's back yard and the cascade was no exception. It was planted in a beautiful Tokoname pot after refinement of the foliage and shari. Although it always looked show ready, it rarely made it into exhibitions because it was too cumbersome to move.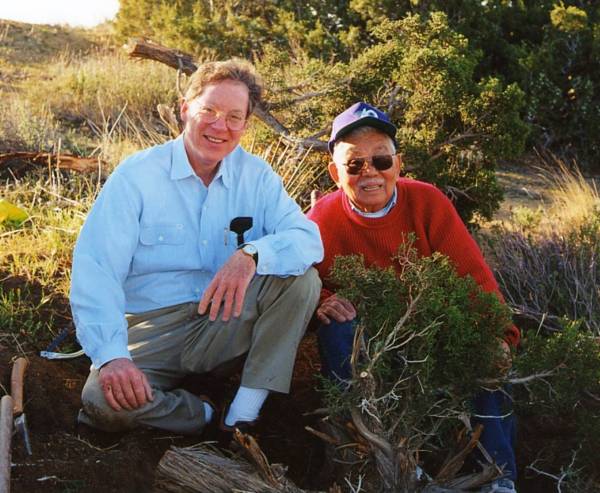 John and Felix relaxing behind a newly collected California juniper.
John never tired of collecting native trees or enjoying the serenity of their natural habitat. In 1999, he joined Harry Hirao, Marybel Balendonck, and a few others on one last excursion to the Mohave Desert. John helped his friend (and National Bonsai Foundation president) Felix Laughlin find and dig out a little gem. John then nurtured it for more than a year before sending it to Felix's back yard.
Harry "Mr. California Juniper" Hirao recalled that John had been collecting in the mountains for four years before inviting Harry for a life-changing trip. John was the first person to walk the hills in search of a masterpiece, but by no means the last. Hundreds of bonsai aficionados have followed in his footsteps during the past 60 years. Magnificent trees, while a little harder to find these days, are still being collected. Thanks, John!
---